Rainbow Bridge Montessori offers programs on a beautiful campus in the heart of Sonoma County.  Read on to learn more!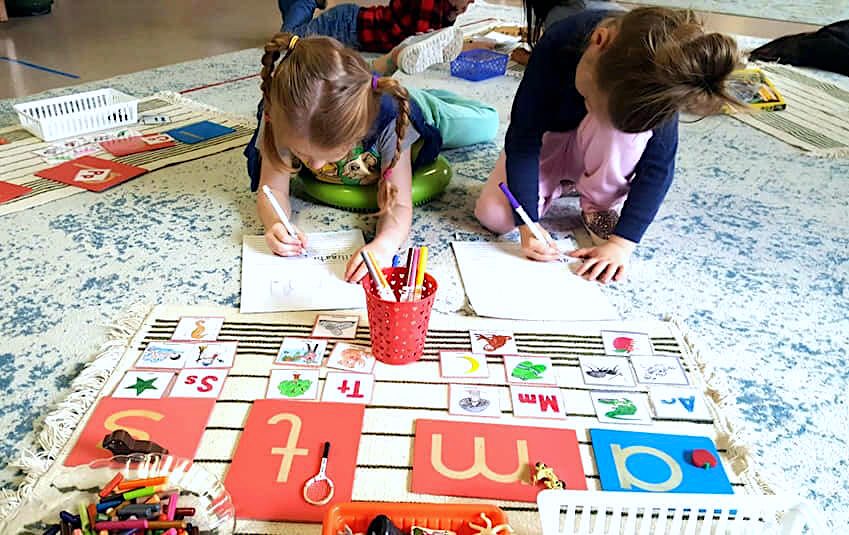 Infant & Toddler Program
(~4 to ~24 months)
We are pleased to announce the launch of Rainbow Bridge's infant – toddler classroom – Flying Clouds!  Children ages 4 months to 24 months old are cared for in an intimate Montessori environment that incorporates nature-based design. The program emphasizes communication and collaboration between families and teachers, a gentle and nurturing Montessori caregiving model, and a beautifully uplifting prepared environment. Visit Flying Clouds to learn more.
Infant – Toddler Session:
8:30am – 3:00pm
(early care available from 7:45am-8:30am)
Toddlers-in-Transition & Primary Programs
(2 years to 6 years)
Our Toddlers-in-Transition & Primary Program provide an age-appropriate and nurturing introduction to the Montessori learning environment that is specifically tailored to children's developmental needs.  Our mixed-age classrooms are designed to facilitate social, emotional and academic development. The curriculum materials are rooted in the Montessori philosophy, and as such are naturally appealing to children's innate desire to learn. New and challenging concepts, materials and experiences are introduced throughout the school year to continually engage the children's curiosity. As children master thoughtful activities and develop new interests, they naturally progress to more challenging activities throughout the classroom.
Sessions:
8:30am – 3:00pm
(early care available from 7:45am-8:30am)
(after care available from 3:00pm-4:30pm)
After-school Enrichment Program
(2 years to 6 years)
Our after-school program provides an art-based enrichment experience. Engaging activities and projects are introduced continuously, following biweekly themes that are inspired by the children's and teacher's interests. Themes may cover topics from outer space to mythical creatures! We are particularly attuned to the needs of children who attend after-school programs following a full day, and ensure ample time for rest and recuperation.
Enrichment Session:
3:00pm – 4:30pm